Oil seal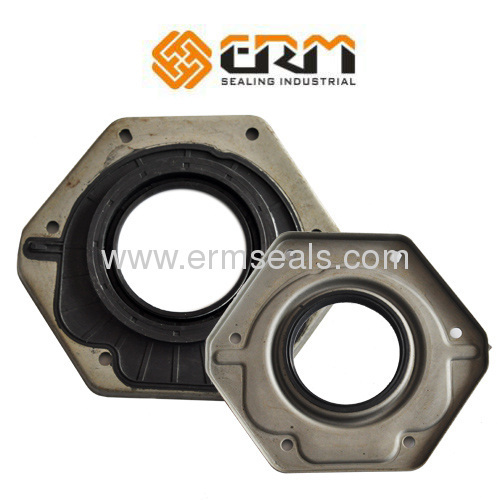 OIL SEAL
Oil seal is a kind of seal for prevent leaking of oil . So we call this Oil seal . Of course, if it is sealing water, we can call " water seal" , sealing dust, it called " dusty seal"
Here ,we introduce our oil seal , this is a rubber seal or PTFE seal with skeleton
Oil seals or shaft seals are an integral part in any rotating and moving part assembly. Oil seals find great deal of usage in gearboxes, hydraulic cylinders, etc. The usage of the seals in areas concerned with motion also earns them a name of "Dynamic Oil Seals." The purpose of the oil seals is
· To act as a physical barrier retaining the lubricating oil where it is bound to be.
· To prevent thelubricating oil from leaking outside even under high pressure of the oil.
· To act as a barrier and prevent dirt, contamination and other external entities from entering the system containing the lubricating oil.
Constructional Aspects of an Oil Seal.
1. The oil seal consists of a metal ring as the inner skeleton which provides the structural stability to the oil seal.
2. The outer skin is made of nitrile rubber ,PTFE ,viton rubber and various other materials which are used based on the requirement.
3. The spring on the lip of the oil seal tends to provide support to the lip and prevents the lubricant from leaking outside and also prevents the entry of contaminants from outside.
Material
Oil seal's material : NBR , FKM(viton) , Silicone , ACM, PU ,and PTFE .
When you choose oil seal for your machines . You must be careful about the material .you should know the work condition,such as Medium , temperature ,shaft speed, shaft material and others.
Temperature:
NBR : -40~120℃
ACM: -30~180℃
FPM:-25~300℃.
Oil seal style .
In order to prevent leaking of different work condition . We develop various style of oil seal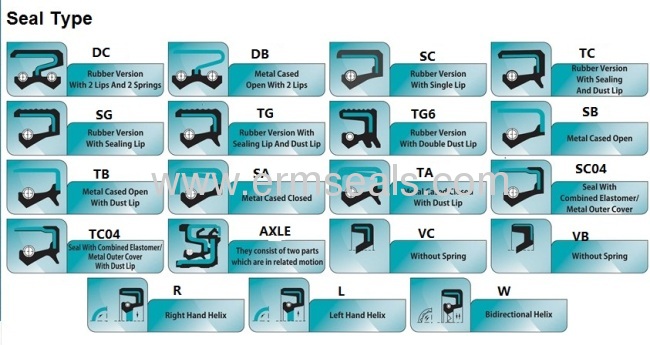 How to install oil seal
1) Remove the original oil seal. An o-ring can be pried out with the edge of a flat-bladed screwdriver, and a gasket can be scraped off with a drywall knife.
2) Wipe any dirt, debris, and/or leftover oil from the area with your dry rag. If any sticking particles remain, scrap them off with your screwdriver or drywall knife.
3) Brush on some pipe dope to the area, which the new seal will cover.
4) Place the seal over the pipe dope and press gently over the top to purge any air gaps between the pipe dope and the seal.
5) Brush on some pipe dope over the top of the seal. Make sure there is a solid and continuous application of pipe dope over the entire face of the seal.
6) Attach the part over the oil seal, lining up any screw or bolt holes, and tighten it up as per the manufacturer's directions.
---